Far about 45km to the west of Hanoi, Duong Lam Ancient Village situated in Son Tay town, Hanoi. Duong Lam village is a great destination to find peace. Duong Lam will make the visitor to trace back the origin of Vietnam's culture and Vietnamese traditions and a great chance to explore the special architecture through its surviving laterite brick ancient houses. The village has been considered as the unique laterite museum with mossy ancient houses dating back over 400 years old. If considering Hanoi Old Quarter and Hoi An Ancient Town are museums of urban lifestyle, Duong Lam Ancient Village is the museum of rural lifestyle and agricultural one.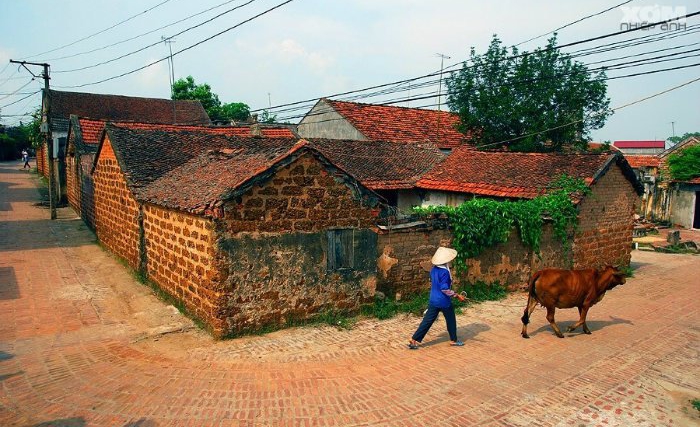 A visit to Duong Lam Village is also the journey to the origins of the culture and traditions of Vietnam. This is also an opportunity for tourists to admire the unique architectural features of the ancient houses, visit the temples of two kings is Ngo Quyen (898-944), Phung Hung (618–626) born from Duong Lam Ancient Village and engage in conversation with the locals in their own ancient houses. Discovering Duong Lam Village is one of the most impressive things to do in Hanoi. Duong Lam consists of 9 small villages in Son Tay city. Duong Lam Ancient Village today still retains many ancient houses characterized by the folk houses at Red River Delta.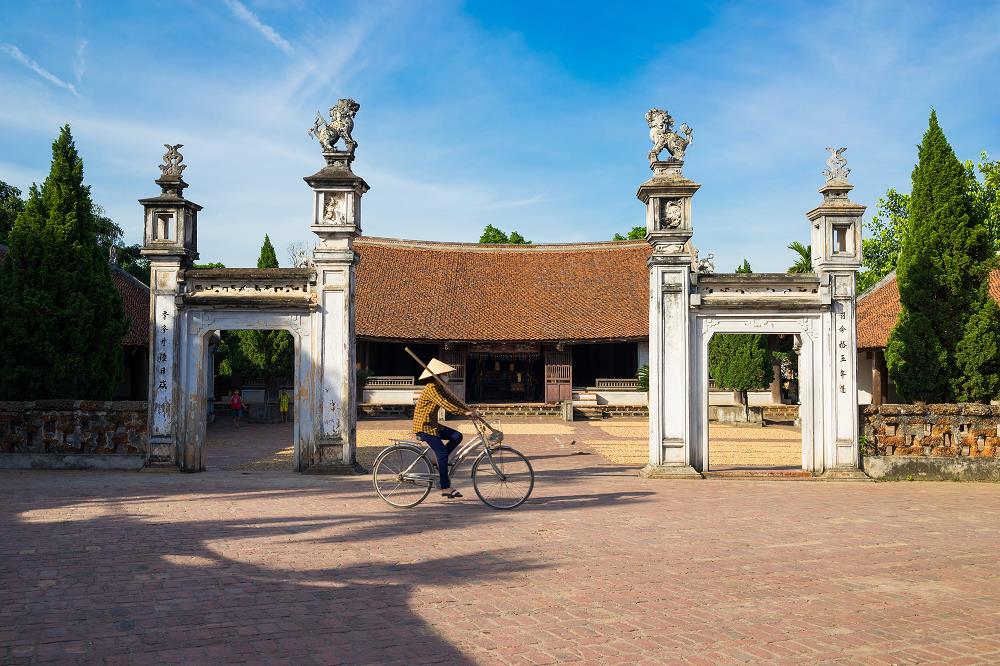 Accordingly, Mong Phu Village owns about 100 ancient houses. They are typical ancient houses having remained largely intact ancient architectural style. It is a kind of house built with materials of wood, laterite with its interior and exterior also retaining its original design. The houses dating back over 200 years account for about 5%, the rest mostly dates back less than 100 years. Most old houses here have maintained gate, fencing, courtyard, garden, the main house, outbuilding, kitchen, ranch... which are very familiar with the ancient village in Thang Long - Hanoi but could hardly find elsewhere today. The unique culture features are worth to bring Duong Lam Village to become the appealing tourist site in the journey of discovering Hanoi tours. Duong Lam Ancient Village is home to converse most typical ancient houses in Hanoi in particular and ancient villages in Vietnam in general. It can be considered as a traditional living space of the agricultural residents which has not been affected much of the urbanized lifestyle. Taking a stroll along the streets in the village, tourists will find it easy to catch the lateral walls, brick walls and rows of areca in the garden in harmony with the peaceful natural landscapes. It is the cultural site inspiring the characteristic beauty of the ancient village in the mountainous areas, a living museum having great appeal for tourists. Duong Lam Ancient Village displays its important contribution in promoting Hanoi tourism to domestic and international tourists.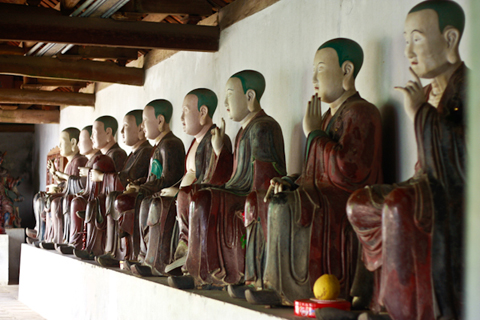 Continue to visit Mia Pagoda – built in the 15th century and admire 287 statues of all sizes. For the first time, Mia was a small pagoda, in the XVII century the pagoda was deserted. In 1632, a concubine of The Trinh Lords - Trinh Trang, Ms. Ngoc Dung came back to her hometown near Mia pagoda, She visited the pagoda and saw the deserted situation. She changed the situation by mobilizing local people to rebuild the pagoda. To show respect to her, local people built the temple and also put her altar on this pagoda to worship after she passed away. Nowadays, local people still call her "Queen of Mia". Event the pagoda was refurbished many times, but the altar of Ms. Ngoc Dung is still conserved carefully. If you're interested, stop to visit Tay Phuong pagoda built in the 8th century, the best example of old typical pagodas in the North of Vietnam, being special with 18 ancient Arhan statues. And Van Phuc silk village, the cradle of best silk in Vietnam once, learn about the silk-making process and shopping finest silk products in Van Phuc village. Enjoy special Vietnamese lunch prepared by the host then you can try Che lam cake, Te cake and sesame candies are the village's specialties.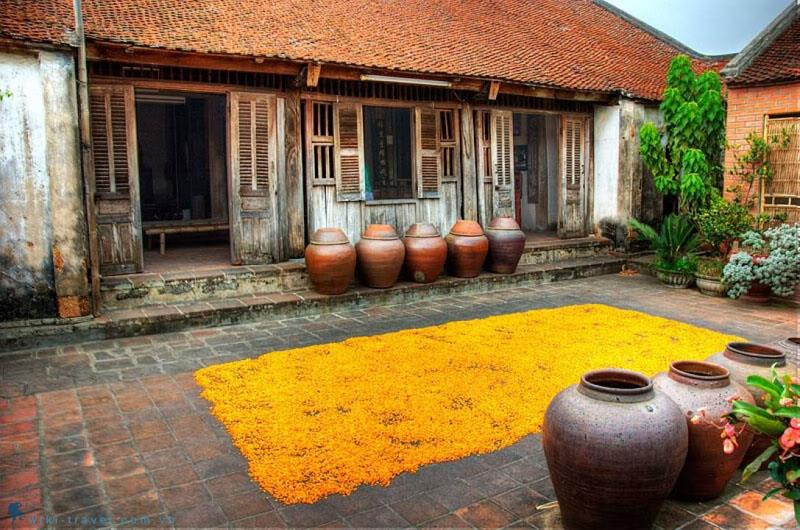 The village is famous for making soy sauce. No one in Duong Lam has any idea when the first soy sauce was made in the village. "Before I was born," you might hear if you ask people who live village. But it's been around for many generations. More than that - who knows? What is clear is that almost every family in the village is doing the same thing, which is making soy sauce. Soy sauces that are made in different places all taste different. Soy sauce is made from glutinous rice, soybeans, corn, and salt. Soy sauce makers choose their materials very carefully. They make soy sauce mostly in May and June because this is optimum soy sauce making weather. For them, rainwater is a necessary ingredient. Soy sauce is used with almost every meal eaten in Duong Lam village. People dip their boiled water morning-glory, meat and just about every kind of food in it. It's also brushed on fish when they are fried. Soy sauce is a necessary ingredient of many traditional Duong Lam dishes. The villagers are proud of their soy sauce and they love making it so much.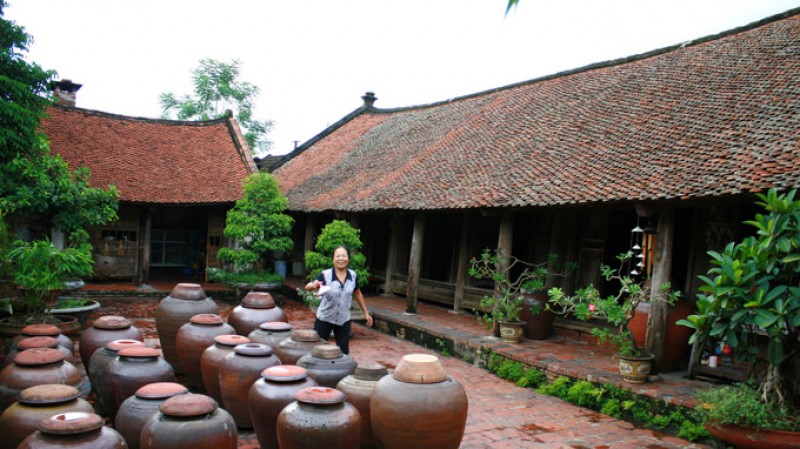 Visiting ancient house is a great chance to explore the architecture of a typical. Vietnamese traditional houses while wandering along its narrow alleyways. Walking around the village to chat with locals to learn more about their local lifestyle as well as gain an insight into the Vietnamese countryside. Duong Lam Ancient Village is an amazing place for visitors who want to find a sense of peace.