Located about 90 kilometers from Hanoi to the south, in the Gia Vien district, Ninh Binh province, Van Long Nature Reserve spreads over an area of 3,500 hectares. Since 1960, a dike with a length of over 30 km has been built on the left bank of Day River in order to protect the delta behind it, turning Van Long into a wetland.
The limestone pinnacles become isolated islands that help many plants and animals escape from the destruction of humans. The scientists are so happy and surprised to discover that this area is also one of the last wild refuges of the endangered Delacour's langur (population roughly 120). This is a species with a high risk of extinction, named in the world red book. Before that, they were known only in Cuc Phuong National Park.
Van Long – a sea no waves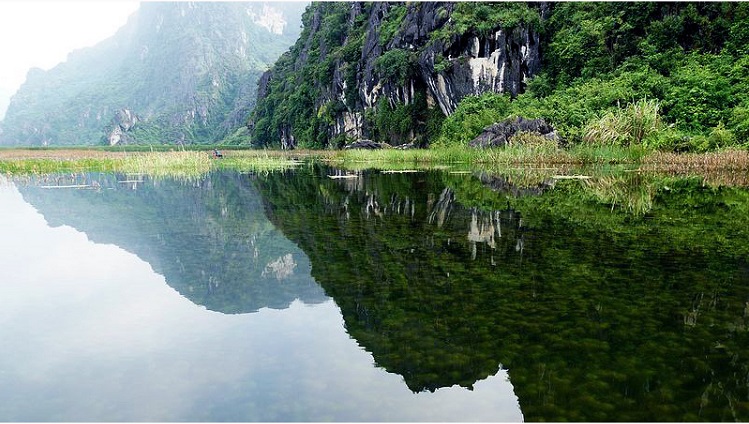 If Tam Coc is known as Ha Long on land, Van Long is also known as a sea without waves. Sitting on a sampan and travel along the river, visitors will be surprised at a beautiful landscape with spectacular mountain ranges erecting up surrounding a vast expanse of water. Van Long has about 1000 grottos and caves such as Fish Grotto, Shadow Grotto, Torte Grotto, Lime Grotto, etc. Fish Grotto is the most beautiful, it measures 250 meters length, 8 meters height, and 10 meters width. Inside, the ceiling is stalactites with strange shapes, and the bed is flooded, where many fishes gather and breed, according to local legend, they caught a fish with 45 kilograms weight, so it named Fish Grotto (Hang Cá). The cave is semi-submerged, located at the foot of the mountain, so after passing through the cave, to the other side, the voyagers will see a small valley surrounded by mountains.
Biodiversity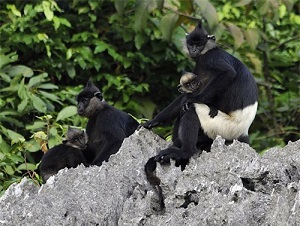 Van Long is highly prized for biodiversity that composes two main ecosystems: wetlands and limestone forests. The flora and fauna of Van Long are very specific to the karst and wetland ecosystems of the Red River Delta. In particular, this is a very valuable biodiversity research site of Delacour's langurs because of the large number of individuals that are easier for the scientist to observe than other habitats.
In the Van Long forest, they have counted about 722 species of plants and 177 animal species, of whom 17 species are recorded in the Vietnam Red list. Van Long is also capable of forming a bird garden because there are 100 species, 39 families, 13 bird orders and now there are roughly 10,000 storks that often feed on swampy areas and rice fields. In the dry season, thousands of migrating birds stop here to feed, rest and court. The visitors have a chance to observe the Bonelli's eagles, pheasants, gray heron, teal and hundreds of white storks, night herons…
Best time to discover Van Long Nature Reserve?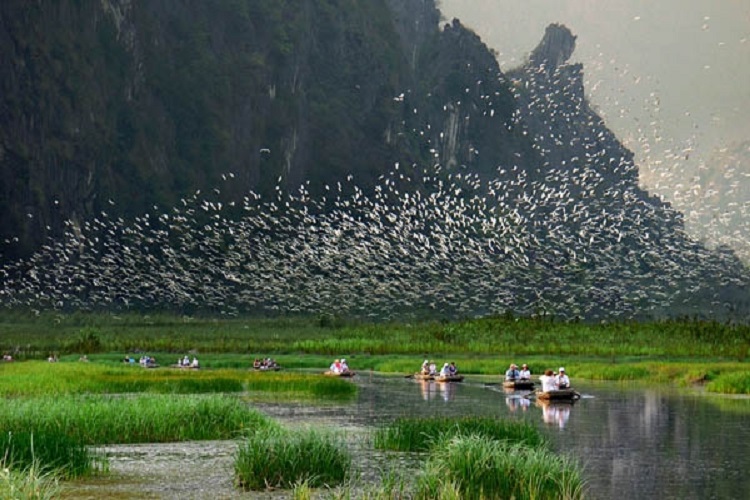 The landscape of Van Long attracts visitors by its natural beauty, seclusion and tranquility. If you are a big fan of photography, you ask the boat driver beforehand, he will take you to the most beautiful scenery. If you want to spot the animals and birds, try your luck early in the morning or in the evening. From May to June every year, the water surface here is covered with the pink of the blooming lotus.
In the dry season (from November to April next year), the migrating birds stop at Van Long Nature Reserve, so it is filled with the white of the white flock of thousands of birds I fly back to live, that's really a poetic picture of nature.
Contact us if you like to receive more information about your tailor-made trip in Vietnam!
Note: The above article reprinted at the website or other media sources not specify the source http://www.ngoisaoso.vn is copyright infringement